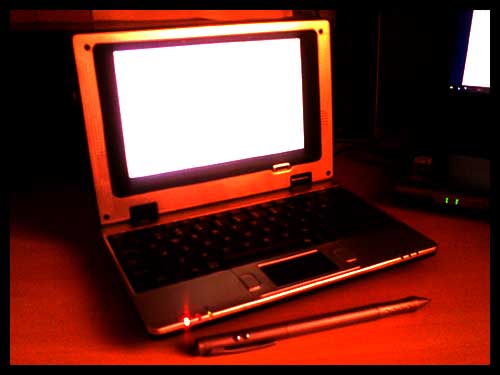 Sup, Letux 400
The Letux 400, a rebranded Skytone Alpha 400.
The cool pen-like thing lying next to it is the "Optimal Supplement for the Openmoko Freerunner", to quote the product brochure. Why?
Thanks Quark 2011!
Update: To my surprise, the "goodie" ended up being one passed through many hands; horribly used, with the spring-latch mechanism of the SD card broken (which means you need to hold your SD card in place to prevent it from popping out), and to top it off, all the documents, settings and other remnants of the previous owner(s) still gracing various folders. It's still an amazing little, used, gadget. But then again, I guess I should just be happy to get anything in the first place, with the nepotism that's now completely taken the place of meritocracy, even in the smallest of administrative institutions. Sad, really.